News
« This section will not only allow me to keep you informed of my current exhibitions or their preparation, but possibly also draw your attention to exhibitions or events in progress or planned for the near future not only in galleries, museums and institutions in Paris and my region of the Riviera, but also events that are not related to either the print, or Art. »« This section will also allow me to show you the evolution, in real time, like the wood block on which I am now working. The long process takes several months to develop and you can follow the progress, almost step by step. Creating a new print begins by working-up an acceptable idea usually with several watercolors. Of course, the end result is essential, but this long "evolution" of developing my concept is almost never shown in its entirety, but I will show you some points that you will find interesting. » « Since my « box of memories » is now quite full, I also will show here some old photographs taken over my long artistic career. Like other artists, my world would have been poorer without the meetings of the others along the way, either by chance encounters or intentionally. Each one, allowed me, through their personality and individual research, to gradually build my own universe. » « Finally, I take this page to honor Isolde Baumgart, my companion of so many years who died in 2011. After our meeting in the early 70s at Hayter's Atelier 17 in Paris, our cureers have been lived in parallel, enriched by each other's presence and by careful assassments that we made on each other's personal work. »
My exhibits
All summer long, I showed my work in an exhibition to the Atelier of Safranier in Antibes, where I had already exposed 5 years ago (in 2011). Opened last June, she has just ended there is a few weeks. Thank you for your very numerous visits!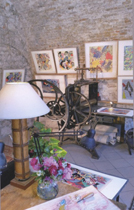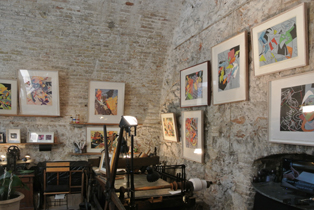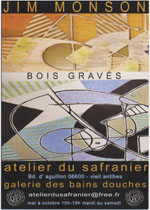 A collective exhibition in Bages
The Opening of a new group exhibit was warmly received by the public. It opened on November 4th and was organised in the picturesque little village of Bages in the close vicinity of Narbonne. I was very pleased to take part with a long time friend Adam Nidzgorski and discovered at the same time the works of Catherine Guthuix, Claude Roux, Edith Schmid and Matias Spescha. The exhibit will continue until the 8th of December. Open to the public from Wednesday till Sunday, as well as the holidays, from 14 pm to 19 pm. All are welcome! (Maison des Arts, 8, rue des Ramparts, 11100 - Bages / Tel. : 04.68.42.81.76 / 04.34.27.03.41 / email : maisondesarts@sfr.fr).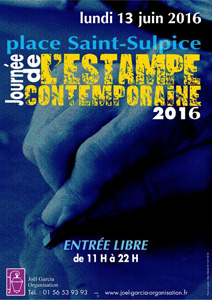 I participated this year in the New edition of the Day of the contemporary print, on Monday, June 13th, 2016. As every year, this event was held around the Saint-Sulpice Place in Paris. In an atmosphere of market, more than 200 artists, associations and workshops, presented on their stands their creations regarding contemporary print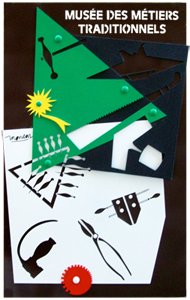 For t
he Museum for Traditional Arts in Tourrette-Levens
Here is a metal panel I recently made, commissioned by the Museum for Traditional Arts in Tourrette-Levens. It is mounted on the exterior wall next to the museums entrance. The idea was to integrate the images of traditional tools found in the museum. It is comprised of four plates of different colors and the objects were precision cut by lazer. There are also two smaller pieces to add more color to the composition.


M
y current print in Process
I recently finished a new print entitled « Maternité » that I plan to show at the St. Sulpice Print Fair in Paris on June 13th. This print was added very recently in my Catalogue Raisonné. I plan to soon begin a new idea, but most likely it will not be finished until the late Fall because of my long stay in Kyoto in July and August.
The Day of the contemporary Print 2017 in Paris
As last year, I participated this year in the New edition of the Day of the contemporary print, on Monday, June 12th, 2017, Saint-Sulpice Place.

The Print Biennial in Cremona (Italy) 2017 (Italie) 2017
I was invited this year to exhibit two of my woodcuts ('Night & Day' and 'Epiphelyum') at the magnificent Print Biennial in Cremona, Italy. Here below is a view of the principal exhibition hall, and a group photo with myself where one can recognise Vladimiro Elviera, printmaker and organiser of the Biennial (far right), as well as Nigel Oxley, printmaker and founder of Prism International, an organisation that was the main guest of this event (represented by Nigel Oxley, John Read, Suzan Aldwort and 33 other and 33 other engravers)

Exhibitions of the artists of Prism International in London and Belfast
I participated in London and Belfast to the exhibitions of the artists of the international group Prism. Here is a photograph of the London exhibition.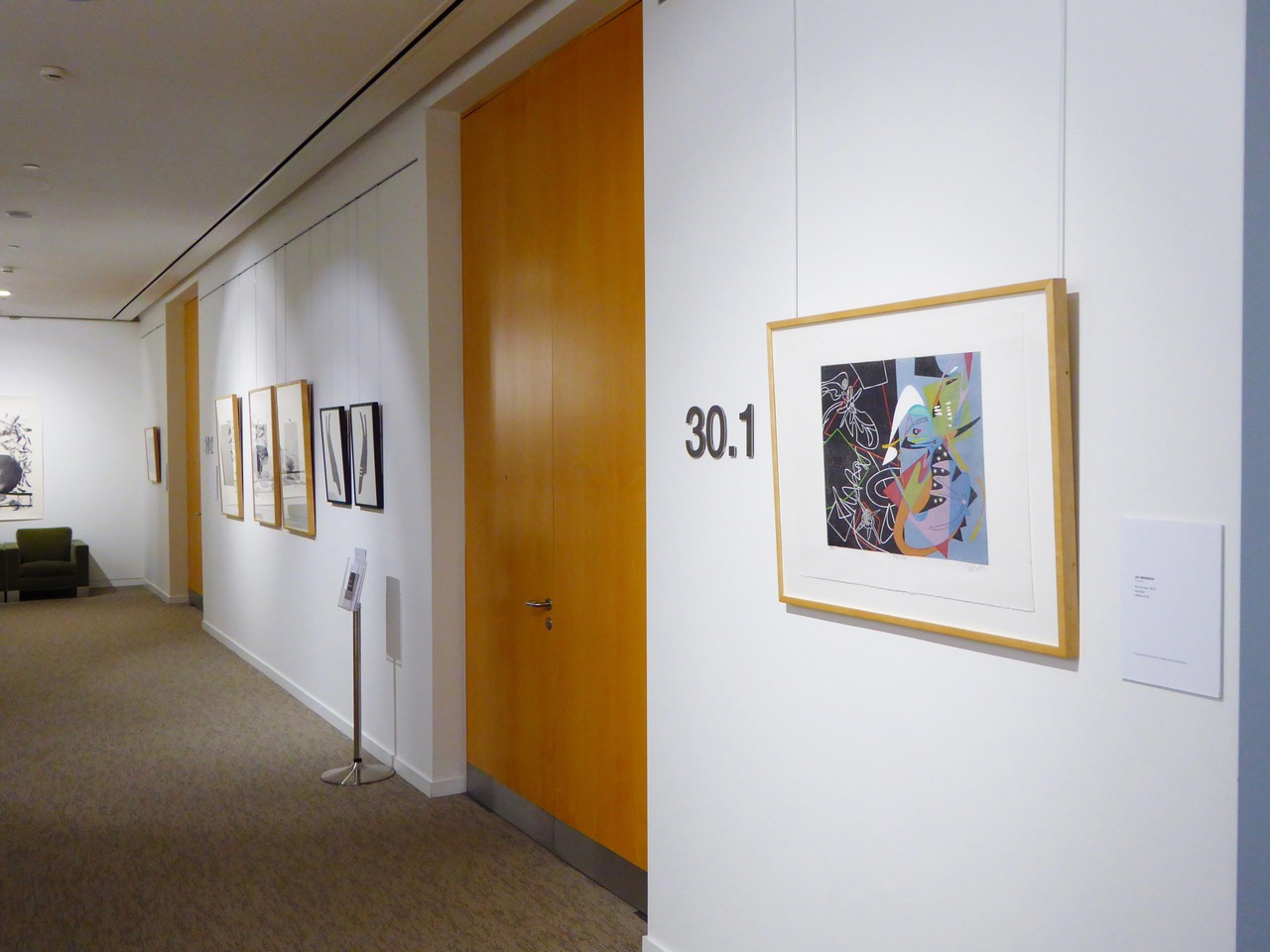 Art Capital Paris 2020
In February 2020, I showed three of my prints with the group 'Les Artistes français' at the Grand Palais in Paris, who warmly received me and with whom I will certainly show again in the coming years.




M
y Box of Souvenirs
This is a note that Hayter wrote more than forty years ago and later gave me. They were this thoughts in writing a piece for my catalogue for my first Paris exhibition at the Atelier twenty-three (23, Rue Saint-Loius en l'Ile, Ile de St. Louis (11/10 until 31/10/1972 ).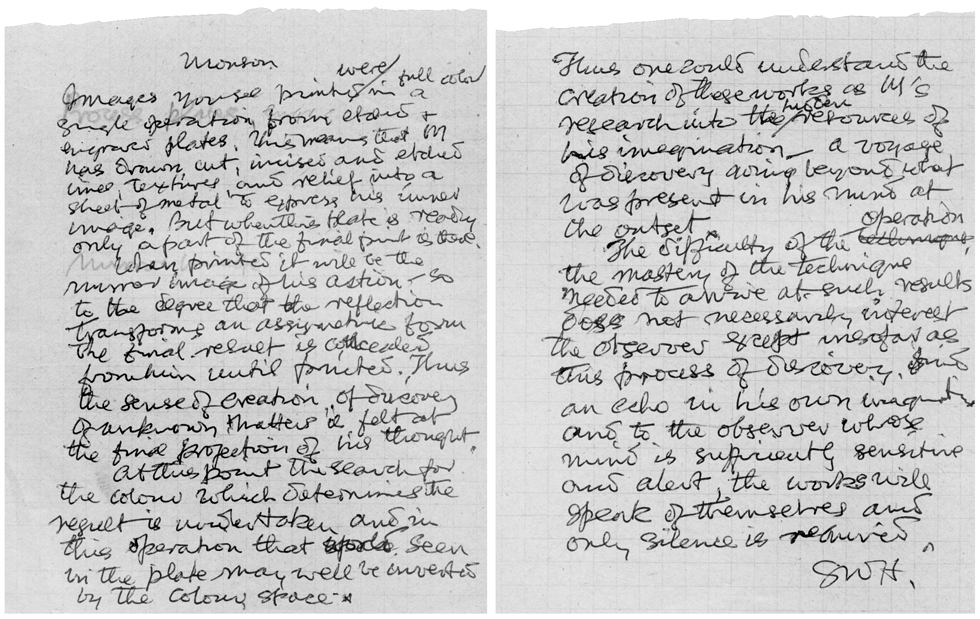 Isolde Baumgart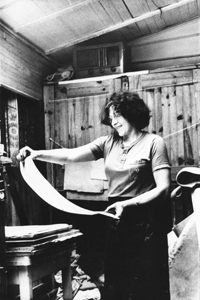 She was born in Munich (Germany) in 1935 and educated in Berlin and Kassel. She was passionate about printmaking. As a student at the School of Fine Arts in Kassel, she became friends with Roger Platiel and they remained friends until his disappearance in1978. She probably had the idea to work in Paris and follow the same path as Roger of learning more about printmaking in the famous Atelier 17 of Stanley William Hayter. There she met the American Jim Monson and in 1973 he became her husband for nearly forty years. She said: "
Hayter always had an experimental approach to print-making. Instead of reproducing a known image or a realistic subject, he encouraged us to express our emotions or moods in abstract compositions. He said: "If you know in advance what your image will look like, it's not worth making it. Working in the abstract brings the artist to the culmination of his/her moods and sensitivities on paper.
" Over the years, Isolde made many beautiful stamps for the Deutsche Bundespost (German Post) and posters for different events (The Munich Oktoberfest, the Bicentennial of the French Revolution, ...) or for the cinema and advertising. She was barely thirty years old when she begins to teach at the American Center of Paris. She also thaught at the University of Connecticut, the Merz Akademie in Stuttgart and at the Art Academy in Kassel. Member of the Alliance Graphique Internationale (AGI), she exhibited in Europe and the United States from the early 60s as well as group exhibitions around the world, receiving many prestigious awards. She was also an illustrator, painter and sculptor and her art is present in private collections and in the major international institutions (Berlin, Frankfurt, Kassel, Minneapolis, Munich, Paris National Library, Oslo, Skopje, Stuttgart, Wiesbaden, ...). Isolde Monson-Baumgart left us in 2011.
« Here, to begin the presentation of her work are three of her etchings from the early 60s. I will regularly update this presentation with other prints and also with some of her stamps and posters. »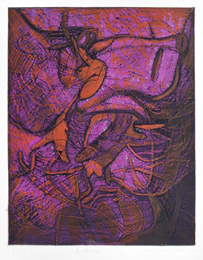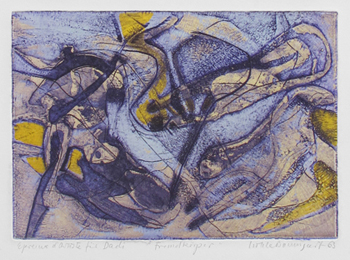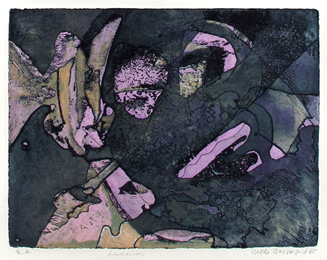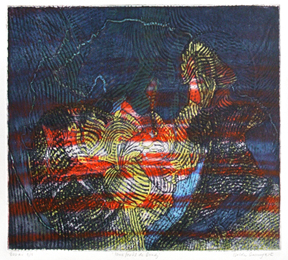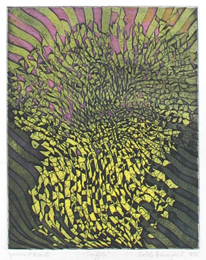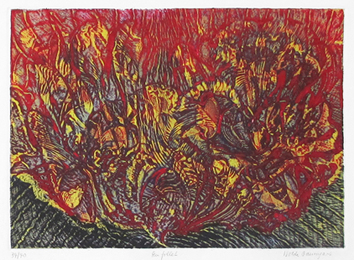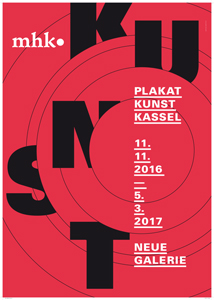 Exhibition poster « T
he posters of movies by the students of the School of Fine Arts of Kassel
» at the MHK Neue Galerie (Museumslandschaft Hessen Kassel) from 2016/11/11 till 2017/03/07. We'll discover several posters realized by Isolde Baumgart along with other ones from her then fellows (Hans Hillman, Roger Platiel, Wolfgang Schmidt, etc). In 1961, these posters have been already exhibited at the Braunschweig Museum. In 1961. In 1979, the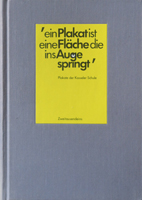 book «
Ein Plakat ist eine Fläche die ins Auge springt
» (Zweitausendeis Publisher) put together the entire set of these posters.
On November 10th at the Neue Galerie in Kassel-Hessen Germany was the opening of the exhibit Plakat Kunst Kassel in which the poster of Isolde were a principal participant. This was the last exhibit for the 2016 calender to be followed by the well known
Documenta
, which takes place every five years.


A video
« L'expression d'une impression » (The impression speaks for itself). The film was shot in my studio in Tourrette-Levens. This video (5'18 in duration) was realised by Dominique Prevost, director of the Atelier du Safranier in Antibes, where I am currently exhibiting my recent prints throughout the summer. It shows me printing a stage near to the final resolution of the image of my most recent print « Maternité » (No. 155 in my Catalogue Raisonné).