Biography and expositions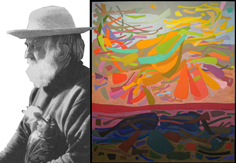 BIOGRAPHY

Jim Monson was born in Minneapolis, Minnesota in 1943.

He received his BA diploma from St. Olaf College, where he took painting courses from John Maakestad.
« John Maakestad was my first mentor and friend, who encouraged me to explore and express myself with my art. »

Then in 1965 he continued his studies at the University of Iowa, where he continued painting under Byron Burford, but began to major in printmaking under the direction of Mauricio Lasansky, often considered one of the outstanding American print teachers of the 20th century.
« Lasansky opened-up a whole new world of prints and a passion for the medium. »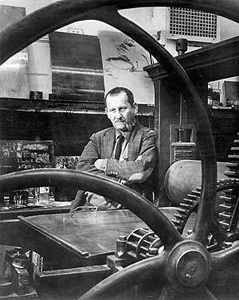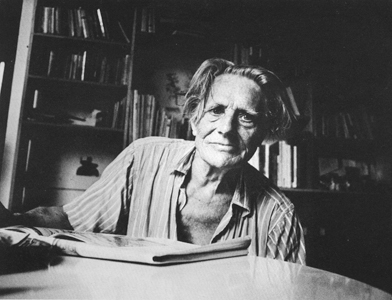 Diplomas in hand (1969), he decided to go to Paris and continue his work with Stanley William Hayter at the well-known Atelier 17.

« Paris formed me and gave me my first concept of a professional life, my myths, essential subjects, my sensitivities and in brief, my pictorial philosophy. Founded n 1927, Atelier 17 became an international focal point for print innovation. Hayter's introductory approach to prints was a complete departure from what I had learned from Lasansky. This was a new strong emphasis on abstract composition and working the metal plate in relief for a new direction in color printing. »


He became an assistant at the atelier and printer for Hayter's work from 1970 to 1973; there was a profusion of artists and activities and a constant exchange and sharing of ideas. Here he met the German artist Isolde Baumgart, who would become his wife and her close friends Roger Platiel, Hector Saunier, Gail Singer, the Korean artist K.B. Hwang and many others.
Hayter once wrote:

« Monson's prints offer a realm of unknown experiences. His world, expressed through the abstract, is obviously a world of imagination, fed more by the experiences of life in general than a specific subject or object. His work is without any presumption and corresponds more to a resonance in one's imagination. »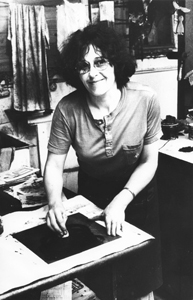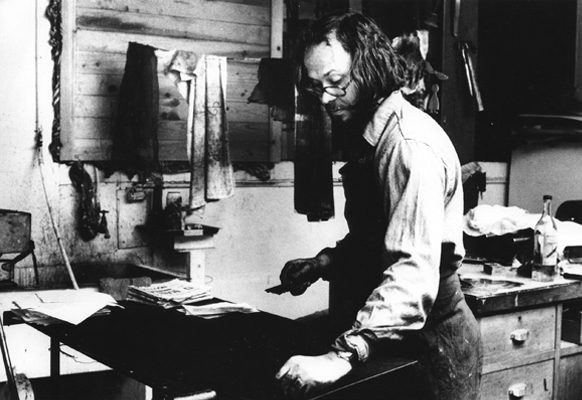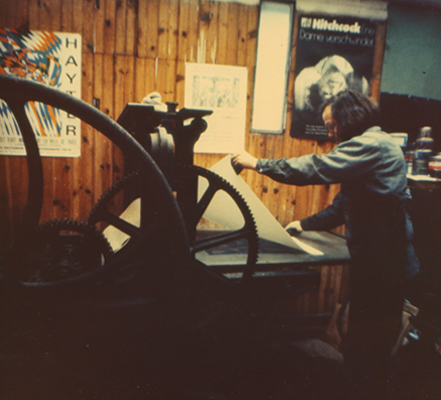 After his first year in Paris, Jim Monson rented a house with studio and equipped with a Le Deuil press that was not far from Atelier 17, where he continued his work. Here he printed his own editions as well as for other artists (
Georges Hugnet
,
Matthew Spender
,
Yasuyuki Kihara
,
Joëlle Serve
and
George Ball
).
In the Fall of
1973
, Jim Monson accepted a position replacing Warrington Colescott at the University of Wisconsin in Madison. Among his memorable students were Bret Wilson, Susan Gosin and Joann Moser, who wrote her doctoral thesis on the global influence of Hayter and Atelier 17. A few years later she was to become the head curator for prints at the Museum of American Art in Washington D.C.
« While at the university I made several photo-etchings, combining drawn images with a relief intaglio plate. »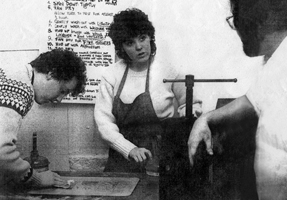 Jim Monson began a print workshop in the south of France near Tourrette-Levens, where he would invite friends from Atelier 17 to spend the summers. He was also invited as artist in residence at the Tyler School of Art in Rome. In
1976
he was appointed to a joint professorship at Carleton College and St. Olaf College (Northfield, MN). From
1977
to
1982
he was an assistant professor of prints and drawings at the College of the Holy Cross in Worcester, Massachusetts and in
1981
he participated in a print symposium with Garo Antreasian at the University of Massachusetts in Amherst.
« Here at Holy Cross and Amherst, I made several lithographs and later developed a department of lithography at the college. It was also at this time that I began looking for a simpler approach to printing as in xylography. »
In
1984
his wife
Isolde Baumgart
accepted a teaching position at the Merz Academy in Stuttgart. The couple spends much of their time between Frankfurt, Stuttgart and the South of France.
In
1985
he returned to settle definitively in Tourrette-Levens, near Nice. Although etchings and engravings dominate his early work, Monson is now known more for his color woodcuts, which has been his passion for more than thirty years.
What could be more simplistic than working by the principle that what is cut away from the surface matrix no longer effects the printed image. But eliminating complexity of technique still demands a laborious procedure; a trade-off that he considered worthwhile since none of the subtleties in cutting are lost in the process and the resulting colors are much more vibrant since a red is composed of a gradual build-up of the preceding yellows and oranges. He stumbled onto this manner of printing by observing Picasso's simplistic approach to creating his linoleum prints. This was a progressive cutting away of a single matrix for each color. Initially Monson used two wood blocks; the first represented an independent background and the second block was used to develop the objects, which also creates a spatial reality. Using one or two blocks was still a more economical method of printing than the traditional method of using one block for each color. The development of the composition, working from a predetermined color solution, is produced by the progressive elimination of areas on the matrix once their desired effect has been achieved. This means that the quantity of the edition must also be predetermined and that each nuance of color must be printed on the entire edition before the matrix is modified and progressively destroyed.
« Variations on this approach to printing still fascinate me. »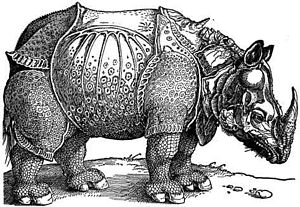 The artist lives and works even today on Tourrette-Levens, surrounded with his collection of prints, cactus and . . . rhinoceros (a passion!).
COLLECTIONS
Bibliothèque Nationale, Paris / Bibliothéque Royale, Bruxelles / Bibliothèque Municipal, Mulhouse, FR / Musée de la Ville de Paris / Musée Municipal d'Epinal, FR / The British Museum, London / Palais de la Scala, Monte Carlo / Kunstverein Frechen, Germany / The Library of Congress, Washington DC / Boston Public Library / Indianapolis Museum of Art, IN / Kalamazoo Institute of Art, MI / Madison Art Center, WI / Milwaukee Art Center, WI / Minneapolis Art Institute, MN / Minnesota Museum of Art, St. Paul, MN / Springfield Art Museum, MO / Witchita Art Museum, KS / Worcester Art Museum, MA / The University of Arkansas, AR / Carleton College, MN / The University of Chicago / The University of Denver, CO / Drake University, IA / Georgetown University / The University of Iowa at Iowa City / The University of Indiana / The University of Kansas / The University of Missouri / The University of Navada / The State University of New York at Fredonia / The University of Oklahoma / Rhode Island Collage / Rockford College, IL / Stanford University, CA / St. Olaf College, MN / The University of Southern Illinois / The University of Utah / The University of Wisconsin / Harnett Museum, Univ. of Richmond, VA / The American Medical Association / Arco Petroleum Inc. / BASF Corporation, Kiel, Germany / Blue Cross Insurance Inc. / The Butler Company of Chicago / The Boston Globe / Cap Gemini Ernst & Young, Stockholm / Citibank of Hong Kong / Continental Bank of Chicago / Control Data Inc. / Deutsche Bank Centrum, Kronberg / Deutsche Bank, Frankfurt / Main & Hannover / Daimler Benz, Stuttgart / Dupont Corp. / The Federal Reserve Bank of Minneapolis / First National Bank of St. Paul / First National Bank of Chicago / Hewlett Packard Corp. / Honeywell Corp. / Illinois Bell Communications / Kellogg's Corp / Nordbanken, Stockholm / Price Waterhouse Corp. / Reader's Digest Corp. / Seyfath, Shaw, Fairweather & Geraldson, New York / Smithkline Beecham Corp. / Unilever Corp.

EXHIBITIONS

Pictures of the posters : *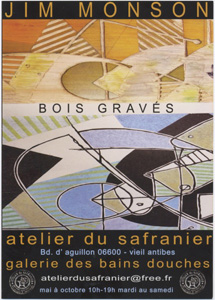 2020
Art Capital, Grand Palais, Paris / Galerie Nordens Ljus (Prism) Stockholm

2019
Biennale de Gravure de Hyères / Galerie Ganza Namikidori (Prism) Tokyo / Oriel Gallery (Prism) Belfest / Royal Scottish Acad. (Prism) Édimbourg

2018
Clifford Chance Gallery, Londres (Prism), Angleterre / Belfast Print Workshop, Belfast (Prism), Ireland / Chico State University, The J. Turner Collection / Centre Culturel, Tourrette-Levens, FR
2017
Boston Printmakers, Cotuit, MA / Manifestampe, Paris, FR / Incisione, Crémona, IItaly
2016
Galerie Safranier, Antibes, FR * / Manifestampe, Paris, FR
2015
'Look Again', Art Complex Museum, Duxbury, MA / American Print Biennial, Boston, MA
2014
Centre Culturel, Tourrette-Levens, FR
2013
American Print Biennial, Boston, MA / Estampadura Triennial, Toulouse, FR
2012
Sophia Antipolis, Conseil Regional, FR
2011
Galerie Safranier, Antibes, FR *
2009
Le Bois Gravé, Fondation Taylor, Paris
2008
Xylon International Print Triennale, St. Louis, FR
2007
3ème Bois Gravé Triennale, St. Die, FR
2006
Biennale Gravure Contemporaine, Paris
2005
2ème Triennale Bois Gravé, St. Die, FR
2004
Fondation Taylor, FR
2003
Galerie Fukuyama, Tokyo
2002
Galerie Yumi, Hamamatsu, Japan
2001
Biennale per Incisione, Ovada, Italy / Amateurs d'Estampes, Seyne-sur-Mer, FR
2000
Le Trait, Gravures Contemporaines, Paris
1999
Xylon in Italy; Pisa, Orvieto, Spoleto / Galerie Colette Dubois, Paris
1998
Galerie Michèle Broutta, Paris
1997
Cracow International Print Triennale, Poland / Amateurs d'Estampes, Pierrefeu du Var, FR / The Beverly Art Center, Chicago
1996
Lakeside Vision' Prospectus Gallery, Chicago / Xylographie Contemporaine, Seyne-sur-Mer
1995
Lakeside Gallery, Lakeside, MI
1994
Galerie Chubac, Tourrette-Levens
1992
'Perfection in Series' Miriam Perlman Gallery, Chicago
1991
Maison du Portal, Levens, FR * / Tyler School of Art, Philadelphia / Rathaus Haselunne, Germany
1990
IBM Research Center, La Gaude, (PACA), FR
1988
'International Prints' John Szoke Gallery, New York City / Silvermine Guild Gallery, New Haven, CT
1987
Galleri Kylhed, Stockholm, Sweden / Salon de Mai, Paris / Contemporary Prints, Princeton, NJ / 'Deferred Gratification" Perlman Gallery, Chicago
1986
Galerie Lometsch, Kassel, Germany / Galerie Götz, Stuttgart, Germany / 'American Prints' DeCordova Museum, Lincoln, MA / 'What a Relief' Perlman Gallery, Chicago
1985
Boston University Print Exhibit, Boston MA / 'Boston Printmakers' Duxbury Art Complex, MA
1984
Miami International Print Biennal, FL / National Print Exhibit, Manhattan, KS / Fitchburg Art Museum, Fitchburg, MA / 'Energy, Feeling & Technique' Perlman Gallery Chicago / National Print Competition, ACM, Duxbury, MA / Brockton Art Center, Brockton, MA / National Prints, Brandais University, MA
1983
Silvermine Guild Exhibit, New Canaan, CT / Contemporary American Printmakers, Philadelphia / Philadelphia Print Club, Philadelphia, PA / National Print Competition, Boston University / Old Queens Gallery, Highland Park, NJ?
1982
Artworks Gallery, Worcester, MA / Stockton National Prints, Higgens Museum, CA
1981
National Print & Drawings, Northern Illinois Univ. / University City Science Center, Philadelphia, PA
1980
Tyler School of Art, Philadelphia / The University of Arkansas at Little Rock / Vogel-Conselvo Gallery, Boston, MA / Biennal of Miniature Prints, Seoul, Korea / Philadelphia Print Club Competition / Boston Printmakers Traveling Monoprint Exhibit / Newport Art Association, RI / Annual Exhibit, Friends Gallery, Mpls. Art Inst., MN
1979
Galerie Daberkow, Frankfurt - Main, Germany * / Smith College, Northampton, MA / The Basel Art Fair, Basel, Switzerland / Vogel-Conselvo Gallery, Boston, MA / National Print Competition, Decordova Museum, MA / The Graphic Eye Society, Port Washington, NY / Monoprints, Ainsworth Gallery, Boston, MA
1978
College of the Holy Cross, Worcester, MA
1977
50 Years of Prints at Atelier 17, Elvehjem Museum / The International Print Society, New Hope, PA / Carleton College, St. Olaf College, Northfield, MN
1976
The International Graphics Society, New Hope, PA
1975
Tyler School of Art in Rome, Italy
1974
Galerie Daberkow, Frankfurt - Main, Germany / The Unicorn Gallery, Bloomington, IN / International Graphics Biennale, Frechen, Germany / 3 Americans in Paris Traveling exhibit, FR / Réalités Nouvelles, Paris / Centrum für Kunst, Liechenstein
1973
The Madison Art Center, Madison, WI * / The Oshkosh Public Museum, Oshkosh, WI
1972
Palais de l'Athenée, Geneva, Switzerland * / Galerie Vingt-Trois, Paris * / XX Salon de Grabado, Madrid, SP / Centro di Studi per l'Incisione, Milan, IT / Newcastle Museum of Art of South Wales, AUS / Islington Studio & Associates, London
1971
Biennale des Estampes, Epinal, FR / Galerie Daberkow, Frankfurt - Main / The Aalto Museum, Reykjavik, Iceland / Salon d'Automne, Grand Palais, Paris
1970
Biennale of Graphic Arts, Florence, IT / Biennale de la Gravure, Seoul, Korea / Salon d'Automne, Grand Palais, Paris
1969
Biennale de Gravure (Prix des Editeurs), Monte Carlo / American Graphic Artists Biennial, New York City / Boston Printmakers National Competition, Boston, MA / Northwest Printmakers International, Seattle, WA / National Prints & Drawings, Dickerson, ND / American Graphics'69, Western New Mexico Univ. / 25 Years of Printmaking at Univ. of Iowa, Iowa City / International Prints & Drawings, Kramer Gallery,St. Paul
1968
American Drawing Biennial, Norfolk museum, VA / Northwest Printmakers International, Seattle, WA / National Print Exhibit, Potsdam, NY / Silvermine National Exhibit, New Canaan, CT / Manchester Inst. of Arts & Science International, NH
1967
Bucknell Univ. National Drawing Competition, PA / Ill-Mo-Ia Drawing Exhibit, Univ. of Illinois, Macomb