Biographie et expositions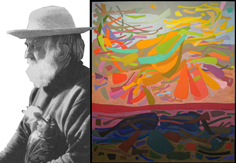 BIOGRAPHIE
Jim Monson est né à Minneapolis, (Minnesota, Etats-unis) en
1943
.
Il fait d'abord quatre années d'études supérieures au St. Olaf College, dont il obtiendra le diplôme de "Bachelors".
Il suit d'abord le cours de peinture que dirige
John Maakestad
au St. Olaf College,
« John Maakestad, mon premier mentor, fut l'ami qui m'encouragea à me connaître et à m'exprimer à travers l'art. »
puis, en
1965
à l'Université de l'Iowa, il continue à peindre en suivant non seulement les cours de Byron Burford, mais plus particulièrement ceux de gravure, sous la direction de
Mauricio Lasansky
, graveur de renommé international qui est considéré comme l'un des « Pères de l'Estampe américaine du XXe Siècle ». Il obient le diplôme de "Master" en 1968, puis de "Master of Fine Arts" l'année suivante.
« Lasansky m'a ouvert au monde totalement nouveau de l'estampe et a une passion pour ce mode d'expression. »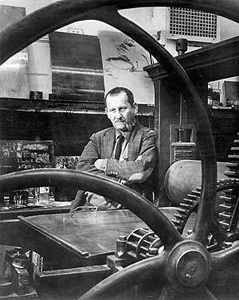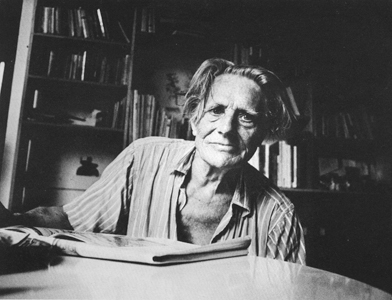 Diplôme en poche (
1969
), il décide de venir s'installer à Paris pour apprendre encore auprès de
Stanley William Hayter
et intègre aussitôt le célèbre Atelier 17.
« Paris m'a formé, m'a donné ma conception de la vie professionnelle, mes mythes, les sujets essentiels, ma sensualité et, en bref, ma philosophie picturale. Fondé en 1927, l'Atelier 17 est à cette époque un point focal international pour l'innovation dans la gravure. L'approche introductive de Hayter à l'estampe était en rupture totale avec ce que je l'avais appris jusque là. Ce fut un nouvel accent fort sur la composition abstraite et le travail de la planche en relief pour une nouvelle direction dans l'impression en couleur. »


Devenu assistant, il collaborera à l'Atelier 17 de 1970 à 1973 ; il y a là un foisonnement de graveurs avec lesquels il travaille, échange et partage les expériences ; Jim Monson y rencontre la graveuse allemande Isolde Baumgart, qui deviendra sa femme, se lie d'amitié avec Roger Platiel, Hector Saunier, Gail Singer, l'artiste coréen K. B. Hwang et beaucoup d'autres.
Hayter l'encourage.

« Les gravures de Jim proposent un champ d'expérience inconnu. Son monde, exprimée par l'abstrait, est évidemment un monde d'imagination, nourrie davantage par l'expérience de la vie en général, que par l'objet ou par un incident passager. Son œuvre, sans présomption aucune, correspond plus à une résonance dans l'imaginaire. »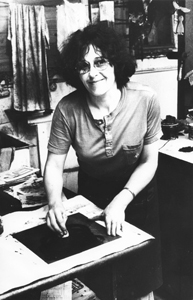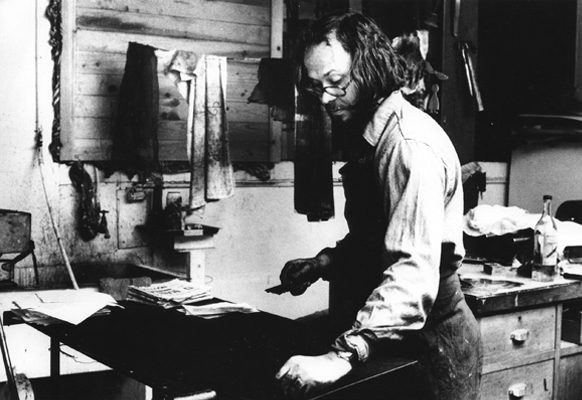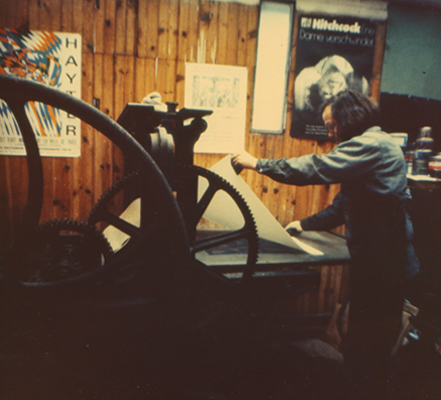 Après une première année à Paris, Jim Monson loue une maison avec un studio de travail où il installe une presse Le Deuil, non loin de l'Atelier 17 où il continue de travailler. Il y imprime ses propres éditions, mais aussi pour d'autres artistes (
Georges Hugnet
,
Matthew Spender
,
Yasuyuki Kihara
,
Joëlle Serve
ou encore,
George Ball
).
A l'automne
1973
, Jim Monson accepte un poste d'enseignant remplaçant à l'Université de Wisconsin-Madison aux Etats-Unis. Il aura plusieurs étudiants mémorables comme
Bret Wilson
,
Susan Gosin
ou
Joann Moser
qui écrira une thèse de première importance sur l'influence mondiale de Hayter et de l'Atelier 17 ; elle deviendra quelques années plus tard conservatrice pour la gravure au Museum of American Art de Washington DC.
« Pendant ce séjour américain, je faisais plusieurs photo-gravures, combinant des images dessinées avec une planche en relief. »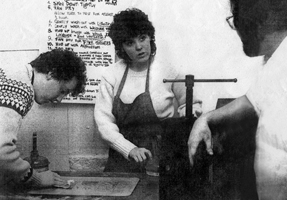 Jim Monson enseigne dans des ateliers d'été dans son propre atelier qu'il a monté dans le sud de la France, à Tourrette-Levens. Il sera conférencier-invité à l'Ecole d'Art Tyler de Rome. Nommé, dès
1976
, professeur adjoint de gravure au Carleton College et au St. Olaf College (Northfield, MN), il aura une longue expérience d'enseignant. Entre
1977
et
1982
, Professeur assistant, en gravure et dessin, au College of the Holy Cross de Worcester (Massachusetts), il participera, avec
Garo Antreasia
, au Symposium sur la gravure à l'Université du Massachusetts d'Amherst en
1981
.
« Ici, à Holy Cross, je réalisais plusieurs lithographies et, plus tard, j'y développais un département de lithographie. A cette même période, je me suis intéressé à des approches plus simples dans la gravure, et notamment à la xylographie. »
En
1984
,
Isolde Baumgart
, sa femme, accepte une poste d'enseignant à l'Academie Merz à Stuttgart . Le couple partage son temps entre Francfort et le sud de France.
Il revient en France en
1985
et s'installe définitivement, avec son épouse, à Tourrette-Levens. Si sa carrière artistique l'amena à réaliser des eaux-fortes, Jim Monson sera reconnu pour ses gravures sur bois en couleur de grand format et aux compositions complexes.
L'artiste exécute lui-même la conception - il s'agit en général d'une aquarelle -, la réalisation (il grave à la gouge ses blocs de bois de tilleul) et l'impression sur papier à l'aide de sa propre presse. Chaque gravure passe jusqu'à . . . quarante fois sous la presse en question. La technique de création de ses gravures est méthodique, longue et minutieuse et elle demande à la fois une maîtrise parfaite et une extraordinaire dextérité.
« J'ai découvert véritablement ma manière de travailler et d'imprimer en observant l'approche simpliste de Picasso pour imprimer ses gravures sur linoléum en couleur. Il s'agit d'une coupe progressive sur une matrice unique pour chaque couleur. Le développement de la composition est produit par l'élimination progressive des zones sur la matrice une fois leur effet désiré atteint. »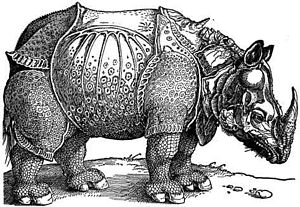 L'artiste vit et travaille encore aujourd'hui à Tourrette-Levens, entouré de sa collection de gravures, de cactus et de . . . rhinocéros pour lesquels il voue une véritable passion.
Des oeuvres de Jim Monson font parties du fond permanent d'institutions comme la Bibliothèque Nationale de Paris, le British Museum de Londres, les Universités de Chicago, de l'Iowa ou du Wisconsin aux Etats-unis, le Witchita Art Museum ou la Library of Congress de New York, et de beaucoup d'autres encore (en Europe, Asie et Amérique).
COLLECTIONS
Bibliothèque Nationale, Paris / Bibliothéque Royale, Bruxelles / Bibliothèque Municipal, Mulhouse, FR / Musée de la Ville de Paris / Musée Municipal d'Epinal, FR / The British Museum, London / Palais de la Scala, Monte Carlo / Kunstverein Frechen, Germany / The Library of Congress, Washington DC / Boston Public Library / Indianapolis Museum of Art, IN / Kalamazoo Institute of Art, MI / Madison Art Center, WI / Milwaukee Art Center, WI / Minneapolis Art Institute, MN / Minnesota Museum of Art, St. Paul, MN / Springfield Art Museum, MO / Witchita Art Museum, KS / Worcester Art Museum, MA / The University of Arkansas, AR / Carleton College, MN / The University of Chicago / The University of Denver, CO / Drake University, IA / Georgetown University / The University of Iowa at Iowa City / The University of Indiana / The University of Kansas / The University of Missouri / The University of Navada / The State University of New York at Fredonia / The University of Oklahoma / Rhode Island Collage / Rockford College, IL / Stanford University, CA / St. Olaf College, MN / The University of Southern Illinois / The University of Utah / The University of Wisconsin / Harnett Museum, Univ. of Richmond, VA / The American Medical Association / Arco Petroleum Inc. / BASF Corporation, Kiel, Germany / Blue Cross Insurance Inc. / The Butler Company of Chicago / The Boston Globe / Cap Gemini Ernst & Young, Stockholm / Citibank of Hong Kong / Continental Bank of Chicago / Control Data Inc. / Deutsche Bank Centrum, Kronberg / Deutsche Bank, Frankfurt / Main & Hannover / Daimler Benz, Stuttgart / Dupont Corp. / The Federal Reserve Bank of Minneapolis / First National Bank of St. Paul / First National Bank of Chicago / Hewlett Packard Corp. / Honeywell Corp. / Illinois Bell Communications / Kellogg's Corp / Nordbanken, Stockholm / Price Waterhouse Corp. / Reader's Digest Corp. / Seyfath, Shaw, Fairweather & Geraldson, New York / Smithkline Beecham Corp. / Unilever Corp.


EXPOSITIONS

Photographies des affiches : *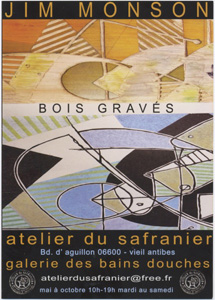 2020
Art Capital, Grand Palais, Paris / Galerie Nordens Ljus (Prism) Stockholm

2019
Biennale de Gravure de Hyères / Galerie Ganza Namikidori (Prism) Tokyo / Oriel Gallery (Prism) Belfest / Royal Scottish Acad. (Prism) Édimbourg

2018
Clifford Chance Gallery, Londres (Prism), Angleterre / Belfast Print Workshop, Belfast (Prism), Ireland / Chico State University, The J. Turner Collection / Centre Culturel, Tourrette-Levens, FR
2017
Boston Printmakers, Cotuit, MA / Manifestampe, Paris, FR / Incisione, Crémona, IItaly
2016
Galerie Safranier, Antibes, FR * / Manifestampe, Paris, FR
2015
'Look Again', Art Complex Museum, Duxbury, MA / American Print Biennial, Boston, MA
2014
Centre Culturel, Tourrette-Levens, FR
2013
American Print Biennial, Boston, MA / Estampadura Triennial, Toulouse, FR
2012
Sophia Antipolis, Conseil Regional, FR
2011
Galerie Safranier, Antibes, FR *
2009
Le Bois Gravé, Fondation Taylor, Paris
2008
Xylon International Print Triennale, St. Louis, FR
2007
3ème Bois Gravé Triennale, St. Die, FR
2006
Biennale Gravure Contemporaine, Paris
2005
2ème Triennale Bois Gravé, St. Die, FR
2004
Fondation Taylor, FR
2003
Galerie Fukuyama, Tokyo
2002
Galerie Yumi, Hamamatsu, Japan
2001
Biennale per Incisione, Ovada, Italy / Amateurs d'Estampes, Seyne-sur-Mer, FR
2000
Le Trait, Gravures Contemporaines, Paris
1999
Xylon in Italy; Pisa, Orvieto, Spoleto / Galerie Colette Dubois, Paris
1998
Galerie Michèle Broutta, Paris
1997
Cracow International Print Triennale, Poland / Amateurs d'Estampes, Pierrefeu du Var, FR / The Beverly Art Center, Chicago
1996
Lakeside Vision' Prospectus Gallery, Chicago / Xylographie Contemporaine, Seyne-sur-Mer
1995
Lakeside Gallery, Lakeside, MI
1994
Galerie Chubac, Tourrette-Levens
1992
'Perfection in Series' Miriam Perlman Gallery, Chicago
1991
Maison du Portal, Levens, FR * / Tyler School of Art, Philadelphia / Rathaus Haselunne, Germany
1990
IBM Research Center, La Gaude, (PACA), FR
1988
'International Prints' John Szoke Gallery, New York City / Silvermine Guild Gallery, New Haven, CT
1987
Galleri Kylhed, Stockholm, Sweden / Salon de Mai, Paris / Contemporary Prints, Princeton, NJ / 'Deferred Gratification" Perlman Gallery, Chicago
1986
Galerie Lometsch, Kassel, Germany / Galerie Götz, Stuttgart, Germany / 'American Prints' DeCordova Museum, Lincoln, MA / 'What a Relief' Perlman Gallery, Chicago
1985
Boston University Print Exhibit, Boston MA / 'Boston Printmakers' Duxbury Art Complex, MA
1984
Miami International Print Biennal, FL / National Print Exhibit, Manhattan, KS / Fitchburg Art Museum, Fitchburg, MA / 'Energy, Feeling & Technique' Perlman Gallery Chicago / National Print Competition, ACM, Duxbury, MA / Brockton Art Center, Brockton, MA / National Prints, Brandais University, MA
1983
Silvermine Guild Exhibit, New Canaan, CT / Contemporary American Printmakers, Philadelphia / Philadelphia Print Club, Philadelphia, PA / National Print Competition, Boston University / Old Queens Gallery, Highland Park, NJ?
1982
Artworks Gallery, Worcester, MA / Stockton National Prints, Higgens Museum, CA
1981
National Print & Drawings, Northern Illinois Univ. / University City Science Center, Philadelphia, PA
1980
Tyler School of Art, Philadelphia / The University of Arkansas at Little Rock / Vogel-Conselvo Gallery, Boston, MA / Biennal of Miniature Prints, Seoul, Korea / Philadelphia Print Club Competition / Boston Printmakers Traveling Monoprint Exhibit / Newport Art Association, RI / Annual Exhibit, Friends Gallery, Mpls. Art Inst., MN
1979
Galerie Daberkow, Frankfurt - Main, Germany * / Smith College, Northampton, MA / The Basel Art Fair, Basel, Switzerland / Vogel-Conselvo Gallery, Boston, MA / National Print Competition, Decordova Museum, MA / The Graphic Eye Society, Port Washington, NY / Monoprints, Ainsworth Gallery, Boston, MA
1978
College of the Holy Cross, Worcester, MA
1977
50 Years of Prints at Atelier 17, Elvehjem Museum / The International Print Society, New Hope, PA / Carleton College, St. Olaf College, Northfield, MN
1976
The International Graphics Society, New Hope, PA
1975
Tyler School of Art in Rome, Italy
1974
Galerie Daberkow, Frankfurt - Main, Germany / The Unicorn Gallery, Bloomington, IN / International Graphics Biennale, Frechen, Germany / 3 Americans in Paris Traveling exhibit, FR / Réalités Nouvelles, Paris / Centrum für Kunst, Liechenstein
1973
The Madison Art Center, Madison, WI * / The Oshkosh Public Museum, Oshkosh, WI
1972
Palais de l'Athenée, Geneva, Switzerland * / Galerie Vingt-Trois, Paris * / XX Salon de Grabado, Madrid, SP / Centro di Studi per l'Incisione, Milan, IT / Newcastle Museum of Art of South Wales, AUS / Islington Studio & Associates, London
1971
Biennale des Estampes, Epinal, FR / Galerie Daberkow, Frankfurt - Main / The Aalto Museum, Reykjavik, Iceland / Salon d'Automne, Grand Palais, Paris
1970
Biennale of Graphic Arts, Florence, IT / Biennale de la Gravure, Seoul, Korea / Salon d'Automne, Grand Palais, Paris
1969
Biennale de Gravure (Prix des Editeurs), Monte Carlo / American Graphic Artists Biennial, New York City / Boston Printmakers National Competition, Boston, MA / Northwest Printmakers International, Seattle, WA / National Prints & Drawings, Dickerson, ND / American Graphics'69, Western New Mexico Univ. / 25 Years of Printmaking at Univ. of Iowa, Iowa City / International Prints & Drawings, Kramer Gallery,St. Paul
1968
American Drawing Biennial, Norfolk museum, VA / Northwest Printmakers International, Seattle, WA / National Print Exhibit, Potsdam, NY / Silvermine National Exhibit, New Canaan, CT / Manchester Inst. of Arts & Science International, NH
1967
Bucknell Univ. National Drawing Competition, PA / Ill-Mo-Ia Drawing Exhibit, Univ. of Illinois, Macomb